shameful compromises/schändliche kompromisse

Look at that feral pig rooting for pixels. What do they want? A few apples or acorns, the odd image, and many histories become unearthed and exposed to light. Like concepts waiting to be tossed up and overturned, as if doing so will give passage from mind to material. At times, their labour is anxious and peppered with long periods between forest and garden. Exactly what they are looking for is a question. We can only see that they are in the act of doing something. It is hard to know what lies under the surface even slightly and especially deeply, in that cool and dark dampness. But we can hold onto the certainty of moving—to the practice of poking, prying, searching, and roaming about—as an adaptable way of being that offers scattered remnants of presence and positions. Wallowing in the mud, we find things assembled in places they never belonged.

During a two-week residency, Colin Miner developed new works as site repsonsive installation for a project in the garden space of La Datcha. Eber Pils and Apfelschorle offered as light refreshments. Publication with images and short text (english + german translation).

Solo exhibition at La Datcha (Berlin, 2019). Installation views. Tarp print, grommets; zink prints; raku pottery smoke tray, incense; air drying clay, garden wire; reactive dye print on silk, framing wire; silver gelatin prints; digital publication; eber pils






Drawn from research + doctoral dissertation "A Photographic Ontology: Being Haunted within the Blue Hour and Expanding Field" this exhibition presents works by five Canadian and international artists – Joi T. Arcand, Kapwani Kiwanga, Colin Miner, Grace Ndiritu, and Kara Uzelman – that collectively act as a proposition to consider the futurity of the photographic image.

The fugitive and cyclical are ongoing starting points for Colin Miner, whose work traces the ontological anxiety that, in his words, "shadows" the photographic. Considering qualities of lightness, darkness, reflection and refraction, Miner seeks to evoke rather than capture photography's qualities of relation. In The Blue Hour, a constellation of disparate objects and images are brought together to create converging lines of inquiry, which elliptically surface and resurface. Here, Miner approaches the photograph as a state of suspension; a manifestation of "space-crossed time." Plaster and latex casts of dust covers for photographic equipment (collected by the artist for potential future use) are tinted by different hues of red light thrown by two neon sculptures whose spiral forms recall early 20th century Czech physician Jan Purkinje's empirical studies of afterimages in the eye. A large-scale print portrays the slippage of silver emulsion across the surface of a photographic plate – quite literally, an image of photography's unfixed state. This movement of glittering emulsion is echoed once again in the diminutive but mesmerizing video Untitled (snail) (2017), which follows, in an endless loop, the barely perceptible movement of a large Peruvian snail – an animal which, one might argue, both secretes time and carries it upon its back. As writer Jacqueline Mabey remarks about Miner's work, in a statement that might also be applied to the conditions of photography as a whole, "you can try to fix the image, but it will never stick. The temporality of the photograph is not the 'there-then' but contains the kernel of potential futures, held in eternal 'yet-could-be.'"

Exhibition at The Contemporary Art Gallery (Vancouver, 2018). Installation views. C-print, Dibond, spray paint, silicone ear plugs; inkjet prints, wood, cast bronze, mat board, tape; polymerized gypsum, inkjet print, cast silver, analine dye, stones, tape; zink prints; HD video, gold iPad mini, iPad soft cover, external battery, USB cable; neons; HD video, isolant foam, foil tape






The man, who day after day, took pictures of shadows

A while ago that still feels recent, I learned to walk with a cat. We followed many paths, like methodologies, which often offered long waits for things that would not appear.

Alongside, my eyes began looking for birds, an occupation that came naturally. Colour, form, movement, and specific qualities of relations proposed comparisons to be translated through depictions in books.

Familiar with looking for details in contrast to positions of movement, my eyes became disciplined on stillness.

Having trained them to see birds, my eyes turned curious for cats. And so, walking with one cat lead to a lot of walking looking for cats. Previously there appeared not to be many cats
and now, many many cats.


Colin Miner draws from his lithography plate images and moiré patterns to create conversations with cats that have crossed his path while going for walks — catwalks.

Exhibition at Open Studios, Toronto, 2018

With generous technical + production assistance during the Visiting Artist Residency from Pudy Tong.

Installation views. Variable photo-litho plates, wood, inkjet prints, cast bronze, feathers, pipe cleaners, tape, tack-it.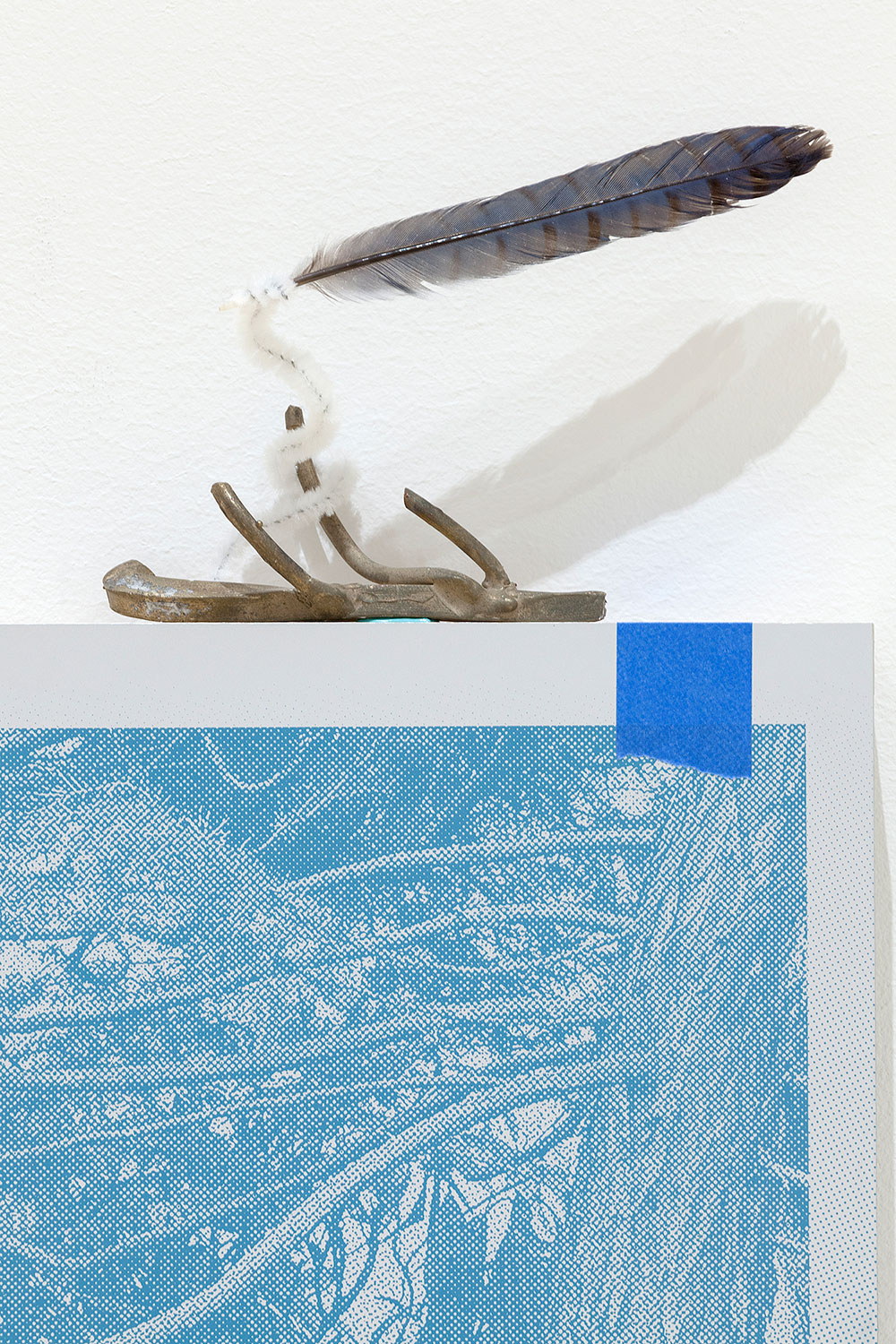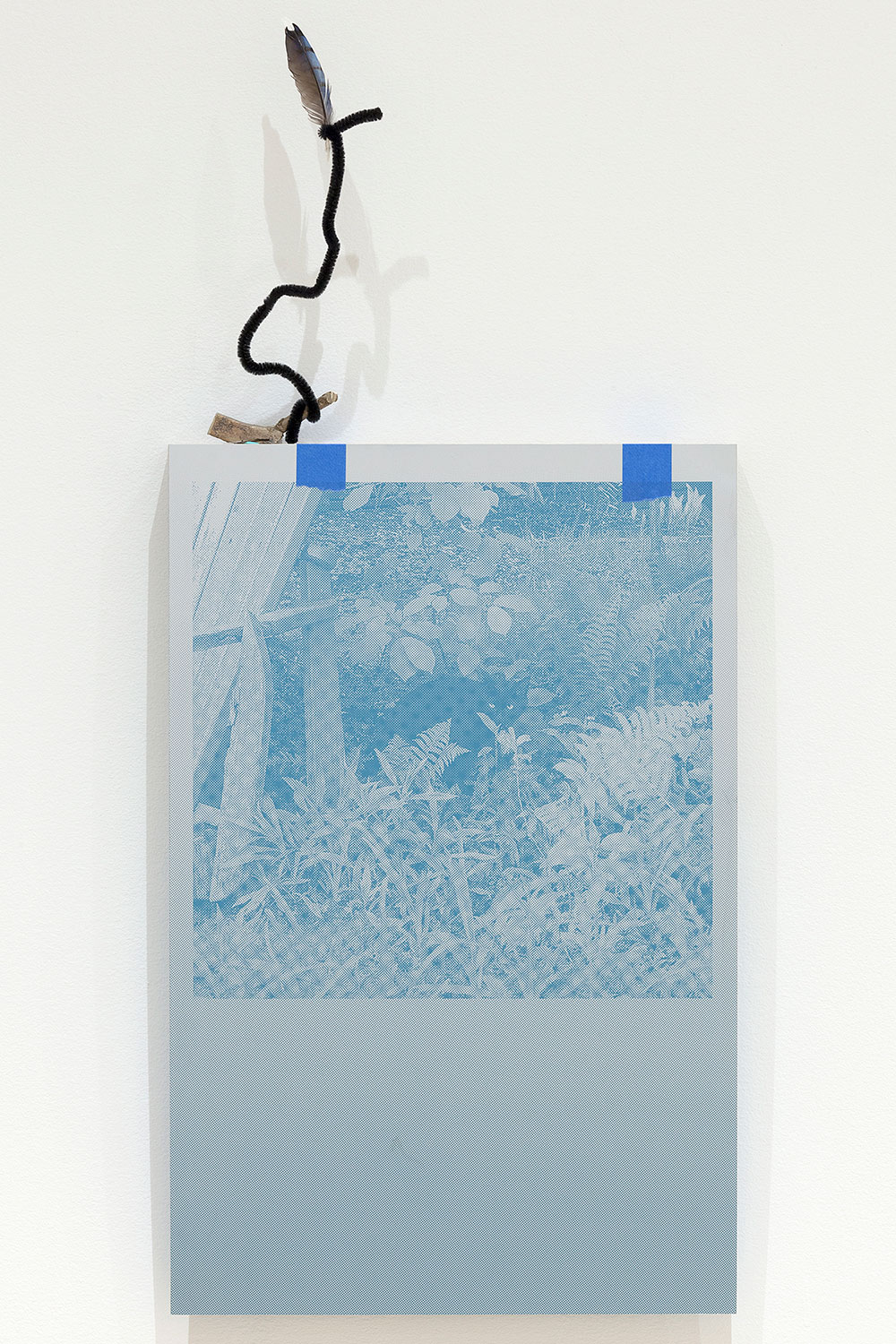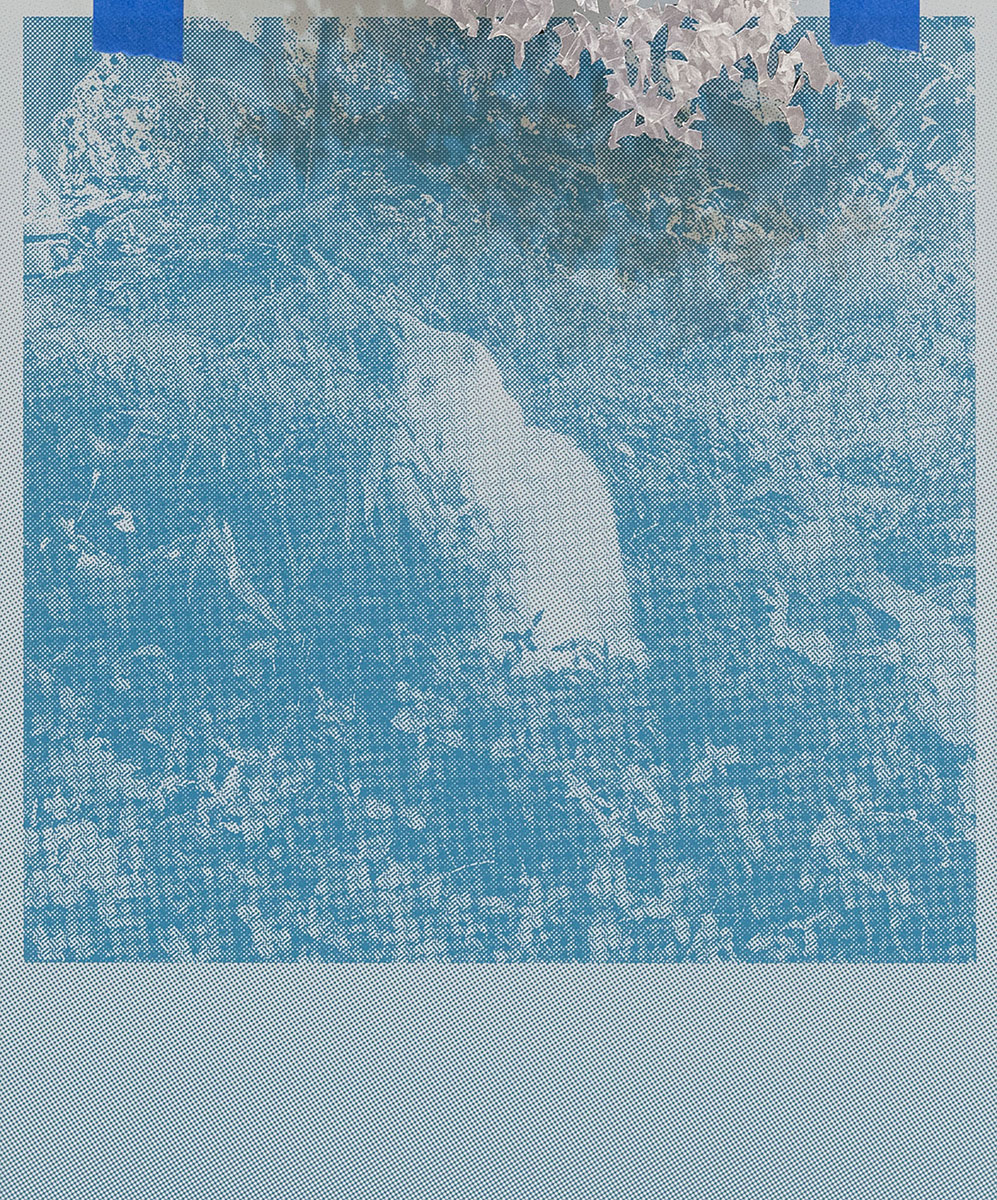 Bringing together disparate works and converging lines of inquiry, Two Toed Lassitudecomes together as a composition, an ever-changing assemblage, growing and evolving through associations, assonances and absence. Much like the ways tiny polyps form coral or trees become a forest, the works shift and expand through proximity to one another, building density of meaning where the political becomes visible through the absent, cyclical and askew. This is the way Miner works, cropping out part of an older work and reconfiguring it in a new context, returning to an idea from a different point of view, inverting scale and colour, making movement imperceptibly slow, transforming objects that were once slack to be rigid and allowing stiffness to slump. The works become scaffolding to expansive ideas that layer materials and metaphors as a way to point to something overlooked or forgotten. Created over a series of residencies – Banff, Peru and the Bruce Peninsula – the works weave an unfolding understanding of the natural world with one that is temporarily arrested through imagery, allowing for slowed and lassitudinous way of looking.

- Curator Leila Timmins

Solo Exhibition at 8eleven, Toronto, 2017

Essay "Your Own Eye" by Leila Timmins PDF

Installation views. Neons; reactive dye print on silk; polymerized gypsum, inkjet print, cast silver, analine dye, stone, tape; paint; inkjet prints; HD video, gold iPad mini; zink prints; cast bronze, nail; c-print, Dibond, spray paint, silicone ear plugs; cast bronze, mat board, inkjet print, tape; HD video, isolant foam, foil tape.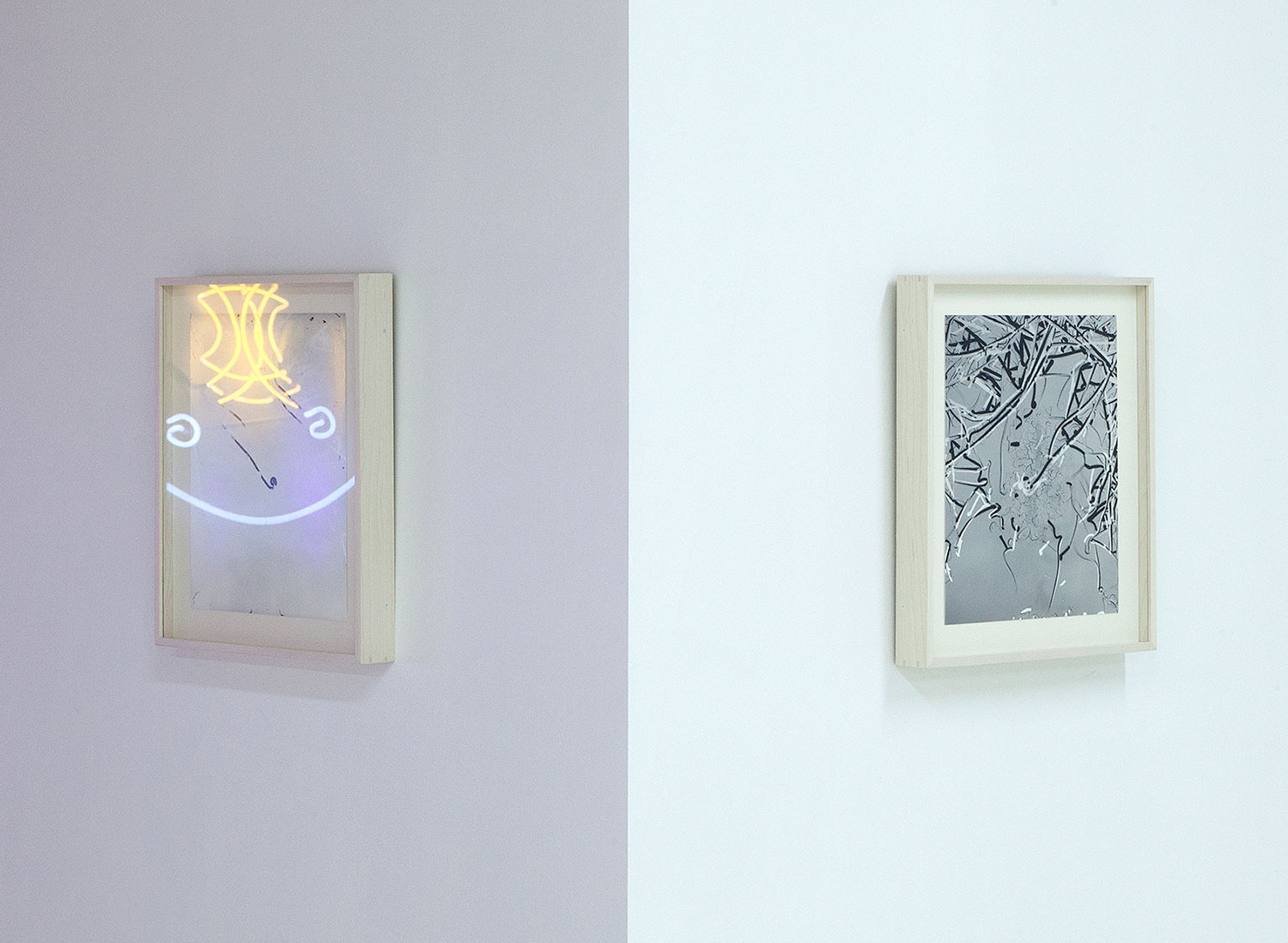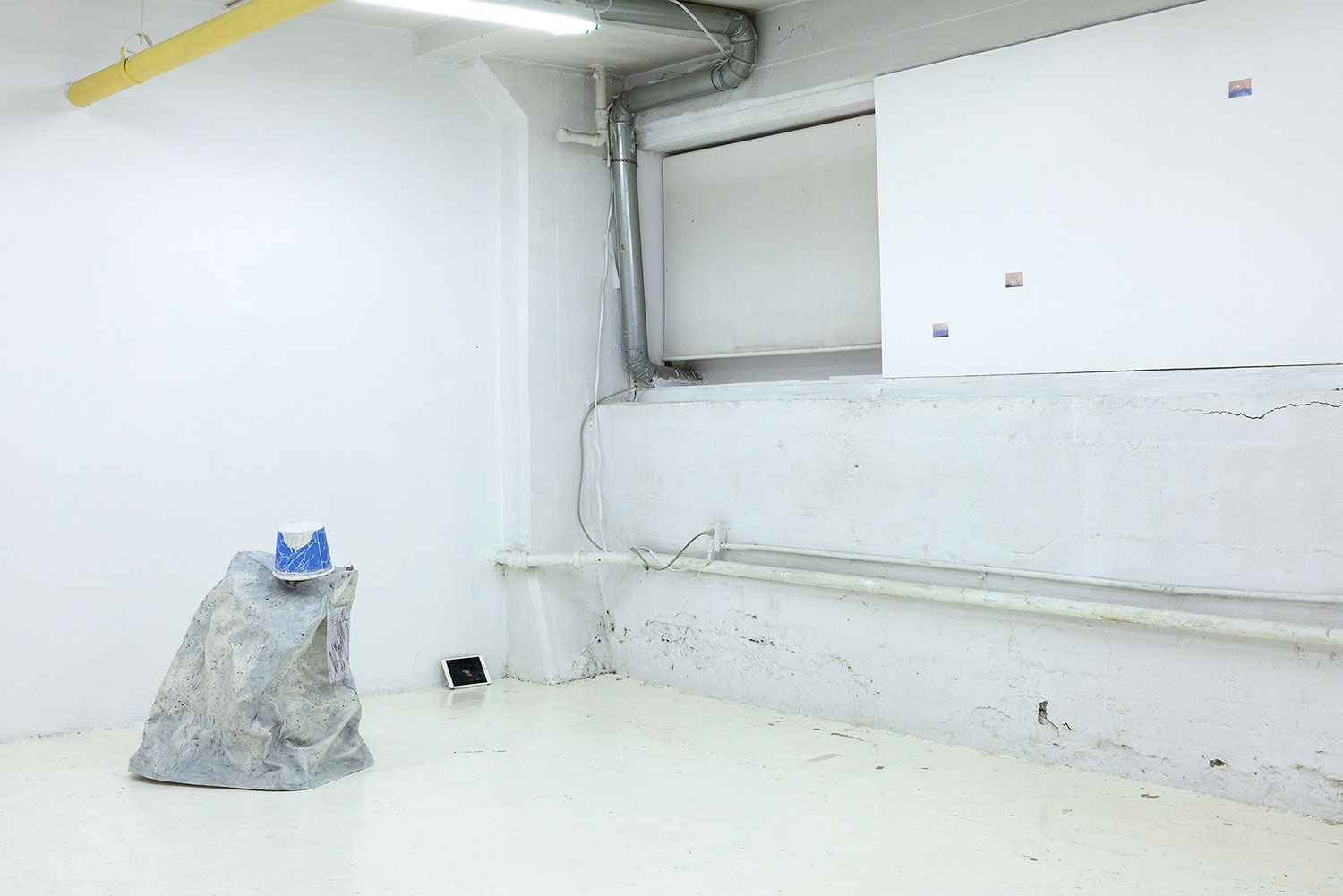 his dreadful glance comprises an installation of new work developed in conversation with processes of dodging and burning. The exhibition engages an anxiety that shadows the photographic and its production of meaning through lightness, darkness, reflection, refraction. Hands grasp, pose, and waver. At angle an eye opens and closes, a spiral unravels, and a leaf hopes to hypnotize offering access to the political through the absent and present, cyclical, and askew.

Solo Exhibition at Neutral Ground, Regina, 2017

Essay by Daniella Sanader "Excercises for Seeing Everything at Once" PDF

Installation views. Risographic prints; zink prints; vinyl wall text; cast bronze, available plinth, mat board, paper, paint; silver gelatin contact print and inkjet print; inkjet prints, tape, paint; inkjet prints; HD video